A universe 350 years in our future.
A tale spanning 1,000 years.
Five teens, lost in space on a living starship.
Learn about the Antares Rangers universe.
A new Science Fiction Young Adult ebook series for all ages.
Tales of the Antares Rangers
Find out how to contact the author,
learn about special offers, and where
the books are sold.
Peter Campbell and his crew of schoolmates escaped from a losing battle against the Wasatti 680 years ago. In that time, they've traveled over 1,050 light-years in the living starship,

Sampson K. Perry

. They repaired the dying ship while in the tight embrace of the supergiant star, Antares; they found new friends in the heir of the D'war'en people and the controlling Al'Va race; they lost one of their own, and in so doing found enemies in the Sargassian race; and they uncovered an inconceivably powerful weapon that could help them in their losing war -- a weapon they don't even understand how to use -- called the Orb of Jabbah.
Learning that their war has already been lost,​ they take the Orb to the very heart of the Wasatti in a last-ditch effort to destroy the Wasatti Empire in one massive blow. They find another willing ally in the Wasatti star cluster, but can they really be trusted? And what will Peter and the crew be willing to sacrifice to see their mission succeed?
Peter Campbell and the crew of the living starship,
Sampson K. Perry,
have been away from the Colonies for over 796 years. They've struggled to make it back. And it's time to kick some Wasatti butt!
The crew returns to the Ten Colonial Worlds and finds humanity enslaved by General Sar ap Kel and his Wasatti Fleets. Join the Antares Rangers in the final installment​ of this action-packed adventure spanning a thousand years. The Second Human War will keep you on the edge of your seat as the valiant crew and their new-found allies attempt to save humanity from the Wasatti Overlords, fighting against incredible odds. But who, exactly, are the Al'Va and D'war'en, and what are their plans? Book 5 delivers non-stop action to the very last page, where all your questions will be resolved.
TalesoftheAntaresRangers © 2011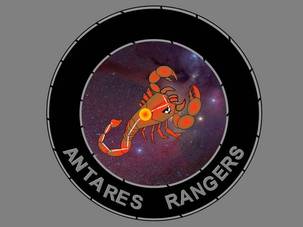 Discover the books in the Antares Rangers series and what's new.
See what's inside the

Sampson K. Perry

.